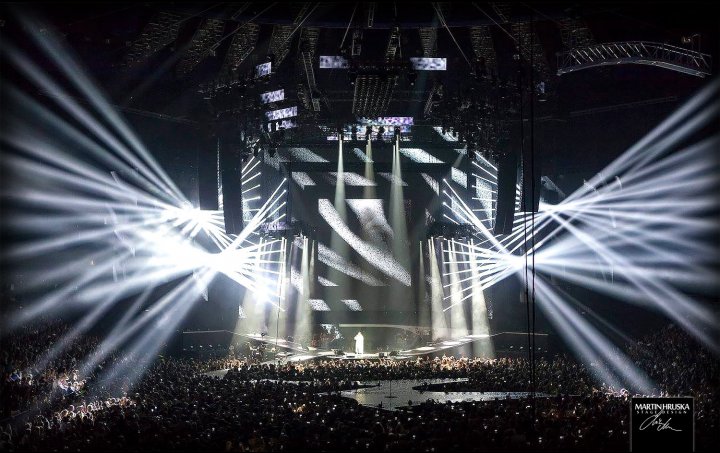 Leoš Mareš 2018
Leoš Mareš famous moderator and singer, his first concert for 40,000 people, sold out in 4 days
Huge concert that was in process for over 12 months, two concerts in O2 Arena sold out in record time, 40 000 tickes sold in 4 days ti be exact. Concert was very high class and it for the desing has been hired Martin Hruška. During the concert there has been used the most gear ever seen in Czech Republic. 300 chainhost, 40 cyberhoist, around 600 lights a total of 1120 light sources, 750 m2 LED video spaces 8K, audio system K1. For the concert was desinged and created many of special components. Concert was programmed before in wasiwyg
Stage designer and Creative show director by Dsgnr Martin Hruška
Executive producer by Cyril Hořánek
Producer Leoš Mareš a Jaroslav Svoboda / Best sport
Light designer Lukáš Patzenhauer, Video operator Adam Špaček, sound engineer Dominik Pecka, executive show director and inspice by Karel Hrivnak, design assistant a project engineer Michal Szozda. Under lead from Martin Hruška on the content of video for LED screen has participated: company XLab, Adam Špaček, Jana Kočí and Cyril Široký, Jakub Chudý, Matiáš Vorda, Michal Szozda. The preparation of the vidro took 14 days. Concert was provided by High lite Touring company. Production Cyril and Kiro
Huge thanks to Leoš Mareš and Jaroslav Svoboda and also i would like to thank the whole crew for delightfully done work.  
 The instalation was very complicated because of the short period of time we had for the whole construction to be prepared. The project was not in touring setUp and it was made only as a one time concert, there must have been put more energy in it so that in 48 everything was prepared. Followed by 20 hours of examination.
The concert was preceded by preparation of project parts, like technical plans, statics, engineering and time proximity, before the concert the whole show was programmed on wysiwyg, wich took 9 days to programm.